Phone:  253-686-5015
Email: connieriggiophotography@gmail.com
Locations: Tacoma, WA
To know me, is to know us.  Joe and I have loved each other since we were 16 and we can honestly say that we are more in love today, than even the day we got married. We have had more than our fair share of ups and downs, but all of it has strengthened us and we are who we are today, because of what we have been through TOGETHER. Joe works as an occasional assistant on my portrait shoots and as my second shooter for most weddings.
I have a son and a daughter and feel blessed that I get to be their mom!  Nick is a junior at WSU majoring in Marketing and loves life.  Amanda's a senior at Stadium High School, but doing running start at TCC and will be graduating with her associates degree!   I adore them!
I've lived in the Pacific Northwest all of my life.  I graduated from Wilson High School in 1984 and from the University of Puget Sound in 1988 and landed my first job just months later at the corporate offices of REI.  I stayed there until the end of 2009, when I realized I needed a change in my life.  I literally felt like there was something dying inside me and I needed to save myself.  I knew I had a lot to offer, but couldn't pinpoint what that really was.  I loved art and admired great photography, so that's where change led me and I am so glad I made that decision and pursued something I loved.  I opened Connie Riggio Photography in January 2010 and have enjoyed my journey getting to know so many wonderful clients and people I now call friends.
I love Haribo Gummy Bears, Red Vines, Cinnamon Bears and Hot Tamales.  Who's with me?  Although I no longer eat them on a regular basis.  I've turned to a healthier lifestyle, but I do have an occasional Red Vine, haha.  I'm much more careful about sugar these days.  As is my life now.
My favorite breakfast is oatmeal. Yep, with nothing on it.  Just oatmeal! And I also LOVE cottage cheese and pineapple.  It's my new staple breakfast and I don't feel right without it!
I love to dance.  I didn't say I was good.  I usually dance at every wedding I shoot.  I have the camera, so there's no proof :).
Joe makes me the best latte every morning and brings it to me wherever I am in the house at the time.  Spoiled, I know.
I LOVE LOVE LOVE animals and used to work at the Pt. Defiance Zoo during my college years.  One of my favorite all time jobs!
I have an Italian Greyhound named Cecchetti (he's Italian, what can I say), but we call him Ketters or Ketter Bean Dog.  He's the best dog in the world!  We also have a Rag Doll kitty named Flora.  She is beautiful and sweet and has made a great addition to our family.
My favorite TV shows are Criminal Minds, House, SVU and cooking shows, even though I don't cook.
I am a night owl and so is my family!
I love coaching people and used to have the nickname "Coach" in my previous career.
I love art in all forms and used to draw cartoons for my kids to color when we were on our family road trips.
We have been to 32 different states as a family and love visiting National Parks!
I love to camp (duh, I worked at REI for 22 years) and travel to new places.
My number one love language is "Acts of Service."
My favorite colors are green and orange.
I'm an Irish allergic to alcohol.  Go figure :).
I love orange sherbet… what's my thing with orange?  Maybe it's because I was born in November and my birthstone is topaz?  I hated that color when I was a kid and thought I had the worst birthstone color ever!
I usually have to force myself to stop a session when it's time to wrap up.  I could just keep going :).
I put up 7 Christmas Trees every year and usually blog about it :).
I'm a collector, it's just a personality trait I have always had.  My newest collection is colorful glass pumpkins I purchase at the traveling glass pumpkin patch every year.  They are all made by local artists.
I have some really bad 80's pictures and someday, I may just share them on my blog.  I'm afraid they'll show up on the Awkward Family Photos website!
I have an understanding for those who don't like getting their pictures taken.  If that's you, don't worry, I always have your best interest in mind and we will step through it TOGETHER!
I put my heart and soul into every session and love what I do. Thanks for sharing that with me.
Nick (22), Cecchetti (Ketters 3), and Amanda (19).  Both kids are now in college!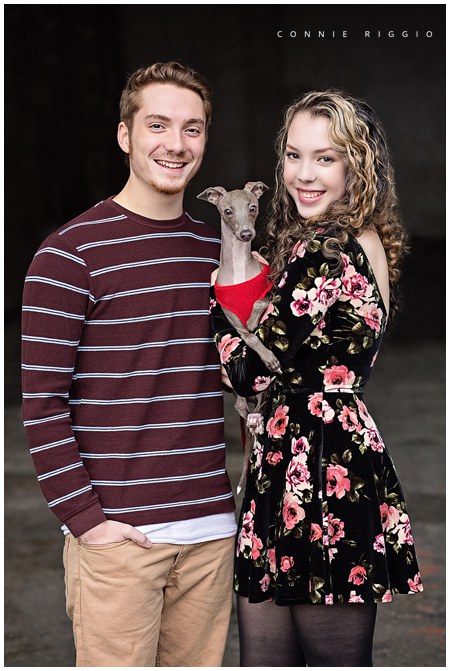 He's an Italian Greyhound, very spoiled and spends a ton of time next to me while I work.